Buy a Chick-fil-A Gift Card
Gift Card Granny wants to help you find the best deal on Chick-fil-A gift cards.
Trae's Tips and Tricks for Chick-fil-A
Eat Mor Chikin...For Lez. Can't get enough of that tasty chicken? Join the Chick-Fil-A One program to maximize your meal-time budget.
Use the Chick-fil-A App. Place your order ahead of time, customize your order, and earn points redeemable for free food with this handy app.
Check Your Receipt. Get a free sandwich voucher when you complete the customer service survey accessible from your receipts.
Chick-fil-A has become a favorite among chicken and burger fans alike. When you're looking for something delicious in a hurry, discover a different side of fast food with Chick-fil-A. Check out their menu, information on restaurant locations, and how you can save money when you visit a Chick-fil-A today!
Enjoy the Chick-fil-A Menu
All chicken, all the time. Chick-fil-A specializes in tasty chicken meals for breakfast, lunch, and dinner. In the morning, enjoy a chicken biscuit sandwich as you head to work. Or, swing by the drive thru in the evening for an order or two of chick-n-strips after the kids' soccer practice. Enjoy yummy side options that include, waffle fries, salad, soup, and fruit cups. Ask for a packet or two of their signature Chick-fil-A sauce and your day just got a million times better.
Find Chick-fil-A Locations
It's easy to find a Chick-fil-A restaurant near you. When you visit their locations page you can find out which restaurant is close by and what it has to offer. Filter to see if nearby locations have wifi, serve breakfast, offers drive thru service, or has a playground for the kids. Find out Chick-fil-A hours, address information, and how far away the restaurant is from where you are.
Become a Chick-Fil-A One Member
Get rewarded for every meal when you join the Chick-Fil-A One program. Earn points for purchases and achieve member, silver member, or red member status. It doesn't matter if you order in the app, in the restaurant, or place a catering order online. They all count! Each membership level comes with its own perks, but all accounts are able to earn points, get free food rewards, and are eligible for a birthday surprise. If you love Chick-fil-A, this loyalty program is worth signing up for. Create a free account online or download the Chick-fil-A app.
Frequently Asked Questions
How much can I get a gift card for?
Chick-fil-A gift cards come in denominations of $5 - $100.
Where can I use my Chick-fil-A gift card?
Use your gift card at most Chick-fil-A restaurants. While there are Chick-fil-A Express and other licensed Chick-fil-A locations, you are unable to redeem your gift card there. If you're visiting a Chick-fil-A in an airport, on a college campus, or in a hospital, double check with the cashier to make sure they will accept the gift card.
Does my Chick-fil-A gift card expire?
There are no expiration dates on Chick-fil-A gift cards.
Can I reload my gift card?
Well, that depends on where you bought it. If you purchased the gift card at an actual Chick-fil-A location, then you can reload it. If the gift card you purchased was from a third-party vendor, it's for single use only.
How do I use the gift card?
Present your gift card to the cashier when you're ready to pay for your meal. He or she will deduct the gift card balance from the total cost of your order.
How do I find the balance on my Chick-fil-A gift card?
Find out how much is left on your gift card.
Can a lost or damaged gift card be replaced?
If you're looking to get your Chick-fil-A gift card replaced, you will need to fill out a replacement form. Send in the form along with your original receipt to the address listed on the form. You can find a link to the form on Chick-fil-A's gift card FAQ page.
About Chick-fil-A
With an original menu inspired around chicken, as well as a variety of other tasty sides and deserts, Chick-fil-A has turned into one of the most popular fast food favorite restaurants in America. Serving breakfast, lunch, and dinner, this family-owned business has been around for over 50 years. Save some money off your next meal when you buy a Chick-fil-A Gift card at a discount.
Comments about Chick-fil-A
You may also like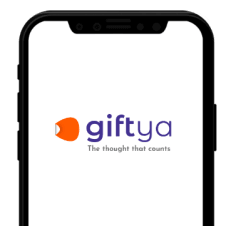 Looking for a new way to gift?
Text friends an egift card in any amount, to any national or local merchant in the U.S., within seconds.
Send a GiftYa