Tips and tricks
Bring the burgers to you! Consider booking an In-n-Out Burger cookout trailer to your next event. Liven up the menu at weddings, corporate parties, or birthdays with In-n-Out Burger.
Order burger merch. Wear your burger pride on your sleeve with apparel, jewelry, hats and more when you order from the In-n-Out Burger company store.
In-N-Out Burger gift card Q & A
What kind of gift card can i buy for In-N-Out Burger?
In-N-Out Burger only sells traditional plastic gift cards.
Where do I check the balance of my In-N-Out Burger gift card?
Simply have your gift card number and PIN from the back of the card and visit our In-n-Out Burger balance check page for more info.
Am I able to redeem my In-N-Out Burger gift card online?
Gift cards are not accepted online or over the phone at this time. Your gift card must be present at the time of the transaction. Use your In-N-Out Burger gift card to pay for meals and merchandise inside any participating In-N-Out Burger location.
What amounts can I get an In-N-Out Burger gift card for?
You can load In-N-Out Burger gift cards with $5-$200 at any time. You may reload anywhere from $5 to $800 at any time. If, at any time, your gift card balance is less than $10 you may request a refund at In-N-Out Burger locations.
What about fees, are there any for In-N-Out Burger gift cards?
There is no activation fee for In-N-Out Burger gift cards.
What do I do if I lost my In-N-Out Burger gift card?
If you believe your gift card to be lost, stolen or compromised notify In-N-Out Burger IMMEDIATELY via phone 24/7 at 1-800-786-1000. You must have the original receipt for purchase/activation as proof. In-N-Out Burger will replace the then-remaining balance at their discretion.
How can I contact In-N-Out Burger for a customer service issue?
In-N-Out Burger is happy to answer your questions by calling 1-800-786-1000. You may also write to them at: In-N-Out Burgers, Customer Service Department, 4199 Campus Drive, Ninth Floor, Irvine, CA 92612.
About In-N-Out Burger
In-N-Out Burger began in 1948 at Francisquito & Garvey in Baldwin Park, CA by Harry Snyder. It was California's first drive-through! Every morning, Harry would visit the meat and produce markets to select ingredients, while his wife Esther kept the accounting books at home. The invention of the two-way speaker box allowed Harry to pursue his vision of creating a completely drive-through restaurant that would reflect its name: In-N-Out Burger. Over the decades, the iconic red aprons were added-- as well as the iconic milk shakes and character glasses. In-N-Out now has over 300 locations all over the United States and Canada.
Save on delicious fast food when you use In-N-Out Burger gift cards. This restaurant chain has an enthusiasm for serving customers the freshest quality hamburgers and french fries as well as refreshing shakes made from real ice cream. You can find a location near you to redeem your In-N-Out-Burger gift card by visiting their store online.
Comments about In-N-Out Burger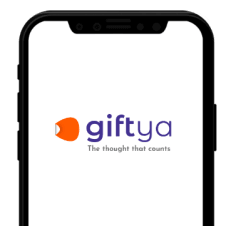 Looking for a new way to gift?
Text friends an egift card in any amount, to any national or local merchant in the U.S., within seconds.
Send a GiftYa