Tips and tricks
Order KFC online. All the savings you need at the click of a button. Order at KFC's online site and you can skip the wait of ordering in store. Not every location delivers, but check with your local store to see if delivery or pickup are options for you.
Check out KFC's social media.For exclusive online offers and info on their latest menu items, follow KFC on Twitter or Instagram.
Look for special promotional offers.KFC usually features promotional offers on their website, so check for those before ordering for some extra tasty deals.
KFC has a food promise, and, in that promise, you'll find that their food is anything but fast. In fact, it takes over 25 minutes for one batch of hand-breaded chicken to make it from KFC's kitchen and into your bucket or boxed meal.
On top of that, KFC uses only the best chicken for their recipes. All of their chicken is 100% real and raised on U.S. farms. Before it can even be delivered to their restaurants, KFC makes sure that all of its chicken passes through the USDA for a quality inspection. Your chicken will never come with any added hormones or steroids, and KFC relies heavily on FDA regulations to ensure that promise. Even better, new regulations set out by the World Health Organization (WHO) dictate that no chicken be raised with antibiotics that are important to human medicine. As of January 1, 2019, all of the chicken KFC purchases follows these guidelines.
Additionally, all dyes, artificial colors, and artificial flavors have been removed from KFC's core products, barring anything that appears in soft drinks and other beverages and third-party products.
Wait… Fresh?
Yes! Every batch starts off with the cooks at an outlet examining each piece of chicken individually to make sure that it's up to snuff to feed to their customers. After that, each piece of chicken is rolled exactly 7 times in KFC's secret blend of 11 different spices. Finally, it's rocked 7 times before the cooks pressure cook it at a low temperature to help preserve its finger lickin' good taste.
Questions and answers about KFC gift cards
How does this work?
It's pretty simple, actually: we here at Gift Card Granny get you a discount for a KFC gift card, and then all you have to do is abide by The Colonel's terms for using gift cards.
What are the Colonel's Terms?
Any gift card you purchase is reloadable, comes with no additional fees, and will never expire. For as long as they're still around, KFC will always honor your gift card.
So I can use my KFC gift card anytime and anywhere?
Not quite. You can use your gift card anytime, but franchises have the right to choose whether they do or do not accept coupons and gift cards for use at their location. Some choose not to. If you aren't sure about where your local KFC stands, call them and ask.
But can I use my KFC gift card on any product?
Again, not quite. At any location that accepts gift cards, you are free to use it on anything, so long as your order does not include alcohol. Some restaurants serve alcohol along with their food, and you're welcome to purchase it, but you must do so with a second transaction outside of the one you make with your gift card. Colonel's rules.
Is there anything I can do if my gift card is lost or stolen?
As long as you have proof of purchase, KFC is more than happy to replace any lost or stolen gift cards. Take it to your nearest restaurant, present your proof of purchase, and it will be replaced in no time at all!
Can I check my gift card balance?
You can! Head to your local KFC, and they'll be able to check the balance for you. You can also check it here.
About KFC
Once just a local eatery in downtown Louisville, Kentucky, KFC has since become the world's most popular fried chicken restaurants with a corporate chain containing over 21,000 establishments in over 130 countries. The first restaurant opened its doors in 1952, with the one and only Colonel Harland Sanders running the kitchen and setting the world on fire with his world-famous Original Recipe®. Since then, KFC has expanded its menu to include Extra Crispy™ chicken, Homestyle Sides, and Buttermilk Biscuits. And best of all, there's still a cook in every last KFC kitchen making fresh, delicious, and complete family meals for a price that they can all afford.
Comments about KFC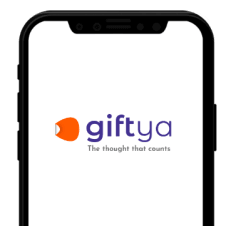 Looking for a new way to gift?
Text friends an egift card in any amount, to any national or local merchant in the U.S., within seconds.
Send a GiftYa