Tips and tricks
Register for the Menchie's Reward Program. Each time you purchase a treat, you earn 1 Smile for every $1 spent. For even more great deals, download the Menchies app. Members automatically receive $5 in Menchie's Rewards and earn twice the Smiles for the first 60 days.
Follow Menchie's on social media. For in-store events and news follow them on Twitter, Instagram, Facebook, and YouTube.
Get your Menchie's delivered. Order through DoorDash, Grubhub, Postmates, or Uber Eats.
More on Menchie's
Where did the name Menchie's come from?
Menchie's origin story dates all the way back to a quiet first date between founders Adam and Danna Caldwell inside a Southern California froyo shop. As they continued to date, Adam called Danna his "mensch," a Yiddish word that refers to a person of integrity and honor. Danna always felt that mensch was a word for an old man, so Adam began to call her his "menchie" instead.
Fast forward to several years after that fateful date when they began plans to open their own fro-yo shop. They liked the name "Menchie's" for their store. When they tested a list of potential names with Adam's classmates at the University of California-Irvine, Menchie's was the most popular.
Does Menchie's have gluten-free options? What about vegan?
Menchie's offers both gluten-free and vegan options. Except for flavors containing cookies or cake, all Menchie's fro-yo flavors are gluten-free. Dark Chocolate Mousse made from almond milk, Cookie Sandwich made with almond butter, and Chocolate Hazelnut made from cashew milk are just a few delicious vegan options that Menchie's offers.
Can you eat Menchie's on keto?
Menchie's offers a variety of low-carbohydrate flavors, making it the perfect treat for anyone on the keto diet. It is also possible to customize your order so that it remains low in carbs. Nutrition information for all ingredients is provided on the Menchies website.
What flavors and toppings does Menchie's offer?
Menchie's offers a variety of flavors to choose from. Want something tart? You can choose from the black cherry, blue raspberry, blueberry pomegranate, green apple, peach mango, and original tarts. Looking for a low-fat option? Try the frosted cupcake or the cream country vanilla. Menchie's research and development team prepares new and exciting flavors every day for customers to try. For a complete list of flavor options, visit the Menchie's website.
Does Menchie's offer fundraisers?
Yes! Menchie's has partnered with schools and non-profit organizations in the past to help them raise money. Find a store near you using their online locator and fill out a request. You can follow up with the store directly by contacting them via phone. Once the owner receives your request and decides to move forward with it, he or she will contact you.
Menchie's also offers sponsorship for organizations and may even donate to an upcoming event you are hosting. You can submit a request online.
Menchie's gift card Q & A
Where are Menchie's gift cards sold?
Menchie's gift cards are sold at participating retailers, at menchies.com, or at your local Menchie's store.
Does my Menchie's gift card have an expiration date?
Menchie's gift cards do not expire. However, some states do charge fees for gift cards after a certain time period. Check your state's guidelines to see whether or not they will charge a fee. We recommend using your Menchie's gift card soon so you can reap the benefits of one without having to worry about late fees.
I need to check the balance of my Menchie's gift card.
You can check your Menchie's gift card balance in a variety of ways.
Are there restrictions on using my Menchie's gift card?
Gift cards can only be redeemed in the country you purchased them in.
About Menchie's
Looking for a treat to satisfy your sweet tooth? Menchie's offers savory frozen yogurt concocted from its own custom-made recipes. Customers can enjoy the delicious flavor and texture of traditional ice cream while reaping the healthful benefits provided by the ingredients in frozen yogurt. Black cherry tart, banana pudding made with vanilla wafers, and chocolate cream pie are just a few fun flavors to choose from. Just don't forget to top your yogurt off with some fresh fruit and candies.
Have a special occasion coming up? Menchies has the perfect fro-yo cake for your upcoming event. Menchies also offers catering for everything from summer BBQs to office parties. Customers can even have their Menchie's delivered to their home and office.
Comments about Menchie's
You may also like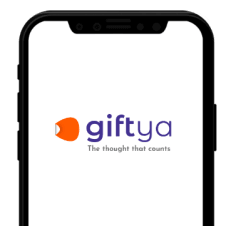 Looking for a new way to gift?
Text friends an egift card in any amount, to any national or local merchant in the U.S., within seconds.
Send a GiftYa