Tips and tricks
Order Ahead. Ordering ahead through the app for pickup qualifies you for exclusive offers like half-priced drinks and slushes all day and other offers that change monthly.
Sign up for text rewards. Text DRIVEIN to 876642 to sign up. When you register, you will automatically receive up to 10 messages/month about exciting offers and other promotional information.
Check Sonic's website for deals. Go to sonicdrivein.com and click the tab furthest to the right that says 'deals'. This page is updated daily with all of Sonic's up to date deals and promotions.
Answers to your questions about Sonic gift cards
Where can I purchase a Sonic gift card?
Sonic gift cards can be used to enjoy a full menu of tasty food, refreshing beverages, and ice cream goodness. If you are looking to buy one, look no further! Gift Card Granny has you covered! Buy your Sonic gift card right here for an amazing discounted price! You can also download the Sonic app on Apple or Android to purchase gift cards. Gift cards can also be purchased at any SONIC location. When ordered online, gift cards can be sent to any address in the US.
How do I check my Sonic gift card balance?
So, you have been cleaning around the house and ended up finding three different Sonic gift cards and have no idea what is left on each, if anything? No worries! You are able to check your Sonic gift card balance right here at Gift Card Granny. You can also call 1-866-OK-SONIC or download the SONIC app to manage your gift cards.
How do I use the balance on my gift card with Order Ahead?
So you have made a mobile order and want to use your gift card to pay for the order. Use Sonic Pay to pay for an order at the store. Place your order at the store the old-fashioned way, and check-in using the Pay tab in the app. Once you're checked in, scroll down to Payment Method and uncheck the green Reload checkbox. This will let you pay the remaining balance of your card toward your order, but not require you to reload your gift card. If your gift card does not cover the entire purchase, you can use up the remaining balance on your gift card and then you can pay for the rest of your order total at the store by swiping a credit card or using cash.
What should I do if I lose my gift card?
So, you have misplaced your My SONIC card and are wondering what you should do. We advise you to always protect your my SONIC card as if it were cash and be sure to register it. In the event that you do lose your card, and it was registered, call (877) 828-7868. There is a possibility that Sonic will replace your gift card if it has been registered.
Do gift cards ever expire or decline in value?
You are thinking about buying or gifting a My SONIC card but are concerned about how long you will have to use your card. Worry not! My SONIC cards never expire. You have a lifetime to use up your My SONIC card! This is especially great if you are thinking of gifting. No matter how long that gift card sits in the back of your loved one's junk drawer, they will be able to use it when they need it! My SONIC cards do not decrease in value either.
Is my Sonic gift card reloadable?
So, you are wondering if you can keep adding funds to the same card. Sonic has actually made reloading your gift cards extremely easy. You can reload my SONIC cards online or at your local drive-in, as well as in the SONIC app. When you reload your my SONIC card you become eligible for special incentives from SONIC including great offers on our made to order food and drinks. Reusing gift cards is the most environmentally friendly option!
About Sonic
Sonic Corp., more commonly known as Sonic, is the operator of an American drive-in fast-food restaurant chain based in Oklahoma City, Oklahoma. SONIC is America's drive-in, serving more than 3 million customers a day at over 3,600 locations nationwide. As an iconic brand with a rich heritage of more than 62 years in business, SONIC franchise systems continues to thrive not only in terms of growth and brand recognition, but also in our unique ability to connect with our millions of customers and become a part of the communities in which we operate. SONIC has one of the strongest brand names in the country, with millions of devoted fans.
Comments about Sonic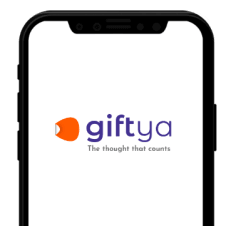 Looking for a new way to gift?
Text friends an egift card in any amount, to any national or local merchant in the U.S., within seconds.
Send a GiftYa