Can I Put a Picture on a Gift Card?
Gift Card Granny has excellent customization options for gift cards. You can absolutely put a picture on a gift card when you use our site. The process is easy! Let's run through it. We have a build-a-card feature with Visa cards and Mastercard. You can choose between $10 to $500 and the number of gift cards you wish to purchase. Ordering gift cards in bulk is a fantastic gift idea for groups if you are in the market.
After that, you can upload your own picture! You can upload a file, and that will appear on the card. Alongside that, you can add the recipient's name and a message for them that appears on the card. Let's look at some of the guidelines when it comes to ordering a personalized gift card at Gift Card Granny.
Deliver in a greeting card for just $1.50
Build a personalized gift card with a photo
Choose a Visa or Mastercard gift card
Add a message to the card - up to two lines
We will promptly print and ship your personalized gift card
Order by 4 PM ET (business days) for same-day shipping
Usage restrictions apply to select gambling, financial, and dating services
For use in the USA only
Images are subject to review in accordance with our image guidelines
Text eGift Cards on GiftYa
Another popular gift giving site is GiftYa, which also offers customizable eGift cards! GiftYa lets you add custom photos or videos to all your gifts in the form of a virtual gift wrapper. A GiftYa can be sent by text or email so the gift is always delivered within minutes. You can also schedule the gift to be sent on a specific date, such as a birthday or holiday. With over 16,000 local merchants and 280 national merchants usable at over 230k locations across the US, you can find the perfect gift for anyone!
Earn Cash Back on Gift Cards Through Gift Card Granny
Putting a picture on a gift card is all well and good, but that's only half the battle. It begins, of course, with the wrapping! Let's talk about some creative and exciting ways to package your gift cards to turn this special gift into something truly spectacular!
10 Amazing Ways to Package Your Gift Cards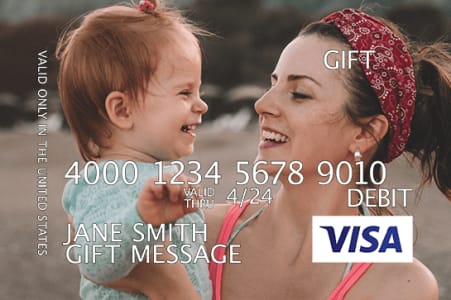 1. Wrapping Paper
Let's start things off simply. Better than handing them the little piece of plastic on its own is to wrap it in a fun gift card! If you've shipped it, it will arrive in a little box, the perfect size to wrap up and tie with a bow. Wrapping up gift cards lets you add a layer of personalization beyond putting a picture on your gift card. Wrapping paper exists from about every fandom and has tons of beautiful nature imagery or anything you could want! This lovely packaging lets you do two things:
You can pick wrapping of something the recipient enjoys, like their favorite media property or favorite animal.
You can pick the wrapping of something you enjoy. This is a fun way to give your personal touch to the gift. It reminds the recipient that it is from you and that you chose wrapping paper you like.
Wrapping paper gives you many options and is a relatively low investment, making the gift card still the nucleus of your gift. While we implied you would purchase wrapping paper for this gift, you can use wrapping paper that you already have or wrap it with something else. Tissue paper, newspaper, magazine pages, anything to cover up the box!
2. A Gift Card Inside a Gift
Next on this list is a gift card placed inside another gift. These are best for more elaborate gifts or smaller gift cards. For better and for worse, your options are just about limited with this gift card packaging. Books are classic gifts for which you can place a gift card. Baskets with a smattering of small items are another great one that allows you to add whatever small gifts you want to the gift card. This works best with gift cards of lower denominations, where they are not the core of the gift. It would be strange to find a $50 or more gift card in the middle of a book or surrounded by candy!
Books, candy, or other gifts can certainly get paired with higher-value gift cards, but we recommend packaging them separately from the gift card. Back to gift cards inside another gift, we recommend having the other gift be the center of attention or among many small gifts. If you are feeling particularly creative, we will wager there is always a way to hide or adorn another gift with a gift card!
3. Envelope
Back to basics, an envelope is a simple and effective way to package your gift card. It makes your gift a bit more exciting without going overboard, and simple envelopes are very cheap to purchase from just about anywhere. From the simplest white envelope with classic stamp and delivery directions you can start to add more flair. There are lots of pre-decorated envelopes and you can add your own art if you are so inclined.
You are already adding a personal touch when you put a picture on a gift card, and another little touch on the envelope is fantastic. Just make sure the recipient checks their mail! Few people check their mail with regularity unless they know something is coming. Gifts in envelopes make for a fantastic day!
4. In a Bag of Candy
Do you love a bag of candy? Heck yeah! Candy is amazing and spruces up just about any gift. Gift cards are no exception. After you've picked out your gift card and customized it with your picture — it's time to add the spice! There are tons of candies, and figuring out which ones are their favorite is a great diversion. A customized gift card is a great gift, but it does not give anything that can be opened up or consumed at that exact time.
Candy can be consumed right when it is opened up. It also provides great wrapping for your gift card. Candy, in a bag large enough, can obscure the card and leave it as a pleasant surprise once they start rooting through the candy.
5. In a Cup!
In a similar vein is a gift card in a cup! Mugs are great. Coffee mugs, travel mugs, and other kinds of cups all make fantastic receptacles for gift cards. This is a great gift combo, where the gift card and mug contribute to the gift's core. This means you have an extra task — finding the right cup. This should be a fun little extra gift. There are a near-unending amount of cups out there waiting to be added into cabinets worldwide. Similar to wrapping paper, there are cups for just about every kind of person. Go wild!
6. Treat it Like a Business Card
Hear us out on this one. There are lots of cute business card holders out there, but not everyone has a need to use them. They are similar to envelopes, but a lot of them are a little more intricate, and once you start looking for them at a retail store or an online shop like Etsy, you will quickly learn that there are countless styles and interesting patterns and materials that make great gift packaging.
This one is a little less involved than the others while delivering a great present on gift day. This kind of packaging is great for really any denomination of gift card to any kind of store. Nicer business card holders deliver the proper gravitas when an upscale card is delivered, but you can find them cheap enough that it is a fun oxymoron when they open a matte faux leather business card holder and there's a Burger King gift card inside.
7. Place it in a Bag
This is the classic option. Toss your gift card in a little gift bag, top it with tissue paper, and deliver it to the party. There is nothing wrong with this option, and many deliver gift cards like this because it works very well. It works exceptionally well, in fact, because you can spruce up the bag and fill it to suit your desires. Gift bags don't have to be stock affairs with a few warm-colored balloons and pink tissue paper. There are lots of fun, out-there designs to use however you wish!
8. A Fun Little Luggage Tag
This is a bit on the nose, but an Airbnb gift card in a luggage tag would make a great present. Luggage tags are fun little accessories that double as gift card packaging. You can aim for a precise gift with a travel-related card inside the tag, or you can put something completely unrelated to travel in there.
9. Wrap it in Fabric
By fabric, we are referring to different kinds of clothing. Hide your gift card in a pair of fun socks or in the sleeve of a puffy sweater as an added surprise to an already amazing gift. Some people are inordinately challenging to buy for. It is safer, with them, to get a universally loved item like socks and hide a gift card to a clothing store inside where they can get some stylish items.
You can also pair the cozy clothing with an unrelated gift card. The socks serve as fantastic packaging to all manner of gift cards.
10. A Box in a Box…in a Box?
Last but not least we come to the box of boxes. Boxes are always a fun way to package gifts, and a recently emerging trend is to overpackage gifts, covering them with a comical amount of boxes. We love this for gift cards! There's something fun about receiving a huge box and opening it up to see, well another box. Ad nauseum until you finally get to the item inside — and a tiny item at that. Another fun way to complete this is with a single large box and a homemade way to hold up the gift card in the middle.
A Gift Card Inside a Puzzle Box
A subcategory to the multitude of boxes is putting your gift card inside a puzzle box! There are puzzle boxes for every level and ones that take a few seconds, some that take a few minutes, and others that take multiple days. A puzzle box so intricate it takes days is not always the best way to deliver a gift card but hey, if you know the recipient loves puzzle boxes, it might be the way to go.
Simple puzzle boxes are a great way to spice up gift card delivery, and they are fantastic ways to have a little fun yourself while you watch the recipient struggle to open it. It is okay if you aren't a puzzler yourself, as you can look up the solution beforehand to pop it open to put in the gift card. Now that you have all of these amazing ideas in your head — which one's your favorite?