Burger King Tips and Tricks
Can You Combine Burger King Gift Cards?
Yes, but not online or in person. By calling or emailing Burger King's corporate office, you can combine balances on multiple gift cards. This process can take up to 10 business days, and a new card will be sent to you with the new balance on it. Questions about this process can be directed to Burger King's corporate phone number, which can also be found on the Burger King website.
If you've got a few too many Burger King gift cards with low balances lying around, try instead taking them in person to a Burger King location and using more than one on a single order. Use one, then when all the funds on it are used up, tell the cashier you'd like to use another to pay the remainder of your total. Most locations will have no trouble with this process.
How Long are Burger King Gift Cards Good For?
Burger King gift cards do not expire.
Can You Add a Burger King Gift Card to the App?
Burger King's mobile app does not currently have a function to order and pay with a gift card on mobile. Try instead ordering in person or through the drive-thru to take advantage of your gift card. Many coupons and deals available on the app (those not marked as 'mobile order only') can still be used in person with your gift card. Try getting a discounted gift card from Gift Card Granny, then using it on a purchase with a deal from the Burger King app. This way, you save money on your card and your meal!
Are Burger King Gift Cards Reloadable?
Yes! Your card can be reloaded in person at a Burger King location from cash or debit/credit card or on the Burger King website from a debit/credit card. Keep in mind, reloads through the Burger King website are limited to $100 at a time, per the fine print on their payment form. The maximum reload amount in person may vary by location; contact your local Burger King with any questions about this process.
Why should I get a Burger King account?
Setting up a Burger King account through the Burger King website allows you to set up automatic re-loads to your card on your schedule. You also have the option to register your card in the event your physical card is lost or stolen. By contacting Burger King, your funds will be frozen on this card and transferred to another. Questions about this process can be directed to Burger King's corporate phone number, which can also be found on the Burger King website.
Where can I use my Burger King gift card?
All Burger King locations in North America accept Burger King gift cards. Also, cards purchased in Canada and the United States can be used in either country. That's right—your Burger King gift card is internationally recognized!
Are there any fees?
There are no extra or hidden fees when using your Burger King gift cards. In fact, they can be used alongside extra coupons or deals no problem! It's just like using cash, except that awesome discounts brought to you by Gift Card Granny makes eating at Burger King even friendlier to your wallet! Try checking out the Burger King app to get easy access to all sorts of deals and coupons, including some that are exclusive to customers who order through the app.
Frequently Asked Questions About Burger King
Does my Burger King gift card expire?
Burger King gift cards do not expire. Your gift card will be accepted at any participating location until your balance hits zero. From there it's simple to reload your card online or in person.
How can I check my gift card's balance?
Enter the code of your gift card on the Burger King website and your card's current balance will be displayed. This tool is in the box labeled 'Check your BK® Crown Card Balance.' Any Burger King location in the U.S. or Canada can also check the balance of your gift card in person. Just bring your gift card up to a cashier before beginning to place an order and ask to check the balance of the card. Or check your balance here.
Can I use a mobile coupon or paper coupon with a gift card?
Yes! Burger King locations usually limit one coupon per transaction, but paying with a gift card should be no problem. Try downloading the Burger King mobile app to get even more deals exclusive to the app, like buy-one-get-one offers and discounts on meals! It brings all the savings of paper coupons right into your pocket for a more convenient way to save money anytime you're craving some Burger King.
About Burger King
Burger King cards, known as a BK Crown Card, is your key to the Whopper Sandwich Kingdom. They are a fast food restaurant chain that will satisfy your taste buds and your brain buds with their delicious burgers and other made fresh to order menu items at great prices. Eat with your discount gift card at any of their locations. To find a location near you visit their website online.
Comments about Burger King
You may also like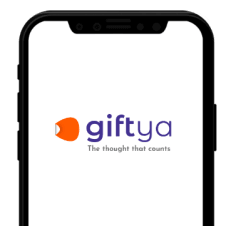 Looking for a new way to gift?
Text friends an egift card in any amount, to any national or local merchant in the U.S., within seconds.
Send a GiftYa