Ebay Tips and Tricks
Browse Daily Deals. If you're looking for some jaw-dropping prices on everything from small appliances to name brand clothing, check out eBay's Daily Deals page for limited time offers.
Add a promo code during checkout. Sometimes eBay offers promo codes for special savings on select merchandise. Find codes in the Daily Deals page.
Frequently asked questions about eBay gift cards
When do eBay gift cards expire?
Good news: your eBay gift card will never expire! You can save it for a rainy day, or use part of it now and save the rest for later, but whatever you decide to do, you won't have to worry about losing your money. Your eBay gift card will not acquire additional fees over time, and will maintain its value perfectly.
How do eBay gift cards work?
Because eBay is a completely digital marketplace, using a gift card on their site can be a little confusing. Don't worry! It's pretty simple to use your gift card once you know how.
First, create an account on both eBay and PayPal, if you don't already have those accounts. These are needed so that if you don't use the entire gift card, the remaining amount can be automatically transferred to your eBay account, and so that you can buy your item through the legitimate payment method of PayPal. Your eBay account must be made in the United States, and you must also have a U.S. shipping address.
Then, shop til you drop!
Finally, enter your eBay gift card information when you're ready to checkout.
Do eBay gift cards have an activation fee?
There are no fees on your eBay gift card, including an activation fee. Save the gift card for as long as you like without consequence.
Can eBay gift cards be reloaded?
There is no way to reload eBay gift cards with new money, but you can always pick up a new eBay gift card (and earn cash back on your purchase) on Gift Card Granny.
Who accepts eBay gift cards?
You can only use your eBay gift card on eBay.com.
How many eBay gift cards can I use?
You can use up to 8 eBay gift cards per purchase, but it's not quite so simple as that — there are a few limitations to keep your gift card use within reason. You are only able to redeem $1,000 in eBay gift cards per day, and you are limited to $1,500 in eBay gift cards per month. The 8 gift card limit also applies to eBay gift certificates, eBay Bucks certificates, or any other vouchers or coupons issued by eBay.
So, say that you've already applied 3 eBay-issued coupons to your purchase. That means you only have room to redeem 5 eBay gift cards, with 3 coupons and 5 gift cards adding up to 8 overall.
How do I check the balance of my eBay gift card?
It can be difficult to keep track of all your gift card balances, especially if you're using multiple gift cards at once. If you've forgotten your balance, no worries! Check your balance online so that you can continue saving without any stress.
About eBay
With the blooming of technology, shopping online is now the easiest and most affordable way to buy almost anything you want or need — and nowhere is it easier or more affordable than eBay! With deals on items ranging from Crocs to Apple iPhones, and a huge marketplace where you can find items you love at a price you love even more, it's no wonder eBay is one of the top places to run your errands — except you get to do it from the comfort of your own home! EBay already offers many amazing saving opportunities for thrifty shoppers, but buying electronics and furniture on the site can still be quite expensive. If you want to boost your eBay savings to a whole new level to buy those expensive (but necessary) items, you might want to purchase a discount gift card.
Comments about eBay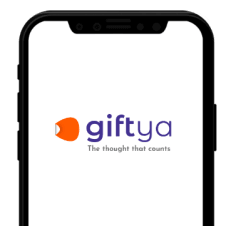 Looking for a new way to gift?
Text friends an egift card in any amount, to any national or local merchant in the U.S., within seconds.
Send a GiftYa