Never pay full price for a Kohl's gift card when you buy from Gift Card Granny.
Shop Smarter with Kohl's Gift Card Deals and Savings
When you're shopping for a family, it's important to find as many ways as possible to save money. Kohl's always offers the latest trends and fashions for less, but you'll notice significant savings when you combine in-store specials and rewards with your discount Kohl's gift card. Shop smarter and get the most for your money. Your wallet will thank you!
Kohl's Cash
Every time you shop at Kohl's you'll earn $10 in Kohl's Cash for every $50 you spend. If you're shopping in the store, you'll receive a gift coupon that you can use during a specific shopping period. When shopping online, your Kohl's Cash will automatically show up in your Kohl's Wallet for future purchases. Use discount Kohl's gift cards along with your Kohl's Cash at checkout and you'll have the shopping trip of your dreams.
Kohl's Yes2You Rewards
Kohl's offers a Yes2You Rewards program for shoppers who want access to even more ways to save on a regular basis. Members earn one point for every dollar spent at Kohl's, and once you reach 100 points you'll receive a $5 reward. You can even earn an additional 50 points by downloading and signing in on the Kohl's App, which allows you to access rewards digitally, track points and store your favorite offers. Yes2You Rewards members will also receive a special birthday gift, special savings offers and opportunities to earn bonus points.
Kohl's Clearance Racks
If you haven't explored the clearance racks at Kohl's, you're truly missing out on a hidden gem. With savings up to 70 percent on clothing, jewelry, shoes, home good, toys and handbags, you can combine these reductions with your discount Kohl's gift card for extraordinary savings.
Kohl's Rebates
Certain product sold at Kohl's, including items like cookware, speakers and home décor, offer mail-in rebates that allow you to receive money back on your purchase. Simply fill in the rebate form for your item and mail it back to Kohl's for your discount.
Kohl's Coupons
Check regularly for special Kohl's coupon deals, which include promo codes and coupons offering additional discounts on merchandise purchased in-store and online. You can even stack your promo codes (up to four per order), adding up to some major savings.
Frequently Asked Questions
How much can I get a Kohl's gift card for?
Buy everything from socks to espresso makers! Gift card denominations range from $10 - $100.
How do I check my Kohl's gift card balance?
There are plenty of ways to find out how much is on your gift card.
Do Kohl's gift cards expire?
Your Kohl's gift card never expires so use it when you want to.
Where can I use my Kohl's gift card?
Whether you prefer to shop Kohl's online or in-store, you can use your gift card during checkout.
What can I use my Kohl's gift card for?
Use your gift card to purchase a variety of products at Kohl's. However, you can't use your gift card to buy another gift card or towards a Kohl's credit card payment.
How many Kohl's gift cards can I apply at once?
Up to 4 gift cards can be used on your online purchase at check out.
About Kohl's
At Kohl's, it's easy to find great deals on name-brand clothing, shoes, home furnishing and jewelry. With over 1,000 locations across the U.S. and an easy to navigate website, you can visit Kohl's any time. At Gift Card Granny, you can purchase a Kohl's gift card for less than face value which turns out to be a great investment. Especially when every member of the family keeps adding items to the cart.
Comments about Kohl's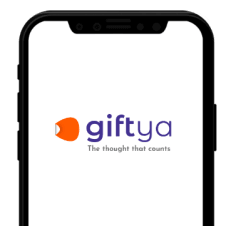 Looking for a new way to gift?
Text friends an egift card in any amount, to any national or local merchant in the U.S., within seconds.
Send a GiftYa