Tips and tricks
Support small businesses! Buy one to support Small Business Saturday or the Shop Small movement.
Get crafty. The perfect add-on for the crafty or artisan-minded person on your list.
Perfect place for trendsetters. An excellent gift idea for that person on your list who is always looking for the newest, latest & up-and-coming.
Answers to your questions about Etsy gift cards
Who sells Etsy gift cards?
Etsy gift cards are sold at participating retailers. You can also buy Etsy gift cards at Etsy.com. Etsy sells digital and printable gift card formats.
When do Etsy gift cards expire?
Your Etsy gift card's expiration date is listed in the email sent to the recipient. The gift card will not be accepted after that date.
How do I check the balance of my Etsy gift card?
You can check your Etsy gift card from Gift Card Granny here. You can also check the balance of your Etsy gift card at etsy.com as well.
Where can I purchase a bulk order of Etsy gift cards?
Corporate and bulk orders of Etsy gift cards should contact Etsy Support.
Since Etsy is completely online, can I get a gift card in different currencies?
Yes, you can purchase an Etsy gift card in many different currencies. However, if you are purchasing a gift card you must use a form of payment from the country that corresponds with the currency. For example, debit and credit cards from the United States of American can only purchase gift cards in USD. See the Etsy Gift Card Policy page for more details.
How much can I purchase an Etsy gift card for?
Etsy gift cards are available in $25, $50, $100 and $250 denominations.
How do I use my Etsy gift card? Can I use it at any Etsy shop?
First, sign in to your Etsy account, and make sure that your account is set to the currency of the gift card.
Next, be sure that the Etsy shop from which you are purchasing accepts Etsy gift cards.
Then, make your payment using your gift card's code (provided in the email). If your purchase is less than the gift card amount, the remainder will save for your use until the expiration date. If the purchase is more than the gift card amount, you need to cover the rest with a debit or credit card, or Etsy credit.
Do all Etsy stores accept my card?
Etsy allows store proprietors to choose what forms of payment they will accept, and that includes Etsy gift cards. Check on the store's main page or faq section to see if they accept Etsy gift cards as payment.
If I lose my gift card, can I get it replaced?
You are responsible for your gift card. Please care for your card as if it were cash. However, if you believe that your gift card has been lost or stolen, contact support@etsy.com immediately and Etsy will take reasonable steps and efforts to lock the card and you will not be liable for future transactions on the card.
You may request a replacement gift card for lost or stolen cards at www.etsy.com/giftcards or by emailing support@etsy.com. A replacement Card will not be issued unless you present adequate proof of purchase, the gift card number, and your full identification. Etsy reserves the right to deny the request for any reason. The process may take up to 30 days.
About Etsy
Etsy is all about "keeping commerce human." A beacon of light, Etsy is the digital shopping platform of choice for small businesses and consumers who want to shop small. With thousands of unique artisan, vintage, and unique items for sale, think of Etsy as that really cool, must-see boutique in this hippest part of town, only right at your fingertips instead of down the block.
Comments about Etsy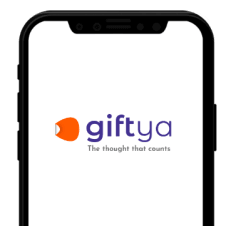 Looking for a new way to gift?
Text friends an egift card in any amount, to any national or local merchant in the U.S., within seconds.
Send a GiftYa