Hollister Tips and Tricks
Want to live everyday like it's summer? Holister can make it happen. This iconic lifestyle brand will bring the beach to your closet, filling it with everything from comfy-casual tees and hoodies to the latest in denim and on-trend fashion!
When you shop at Hollister, you get genuine California style-- and a gift card can bring it that much closer!
What is Hollister?
As a company owned by Abercrombie & Fitch, Hollister is a life-style brand famous for its laid-back, Southern California inspired clothing. Less expensive than A&F, it's designed with a younger audience in mind. Both men and women can find something for themselves at Hollister, and for the teens there's something just a little more special-- they sell uniform-approved styles! With this, they help kids feel like themselves at school.
You can find and purchase their clothing both in-store and online.
Find a Store Near You!
While we all love shopping from the comfort of our couch, sometimes an in-person experience is the way to go. Hollister has hundreds of stores across the country. You can search for one that's near you by going through their website and inserting your zip code, city, or state.
Hollister's Club Cali Rewards Program
If you love Hollister, you should check out Club Cali, their rewards program!
With every dollar you spend, you get points-- earn enough points and you get free, redeemable Cali Cash that you can use on your next purchase. (Pro-tip: You can receive 1,000 points right away just by downloading the Hollister app!) Becoming a member is free to do-- so just imagine the savings if you combine this discount with a gift card!
Download the Hollister App
By downloading the Hollister App, not only do you get to shop on the go, but you'll be the first to hear about upcoming sales and insider discounts!
Hollister gift card info
Where are Hollister gift cards sold?
You can purchase a Hollister gift card in-store, online, and, of course, through participating retailers like Gift Card Granny! You have the option to receive the card either through the mail, or via email, as an e-gift-- it's up to you!
How do you redeem a Hollister gift card?
You can redeem Hollister gift cards in store or online, so it all just depends on your shopping mood! You cannot, however, use them at Abercrombie & Fitch.
Do Hollister gift cards expire?
No, they don't! A Hollister gift card will only expire if it were a part of a special event, but a regular gift card bought from any Hollister store, through their website, or participating retailer will not expire.
How do you check the balance of a Hollister gift card?
Sometimes you forget if you've used that gift card and that's okay! You can check on your gift card's balance through Gift Card Granny right here!
Can you replace your gift card if it's lost or stolen?
Unfortunately, Hollister cannot be held responsible for lost or stolen cards and therefore will not replace it, no matter the circumstance.
Can you get your gift card refunded?
Gift Card Granny will buy your unwanted gift card! Hollister, on the other hand, does not allow their gift cards to be refunded. You also cannot redeem it for cash. Gift card sales might be final at Hollister, but feel free to sell it on Gift Card Granny.
Can you use an eGift Card in store?
Just because your gift card is simply a code in an email, doesn't mean you can't use it in store! Show the clerk your e-gift and they'll do all the work. eGift cards work the same as the regular gift cards-- they have no expiration, cannot be replaced, and cannot be redeemed for cash, unless otherwise required by applicable law.
How much can you get on my Hollister Gift Card?
You can load your gift card with anything between $25-$200, at increments of $25. (Hollister gift cards also, unfortunately, can't be reloaded with more money.)
About Hollister
Since the summer of 2000, nearly two decades ago, Hollister has successfully been clothing young people in all-American fashions that celebrate sun, surf and sand. While trends come and go, Hollister, too, evolves, yet always remains true to its brand and its attitude: nothing beats an endless summer!
Comments about Hollister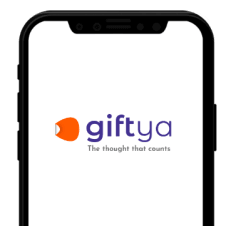 Looking for a new way to gift?
Text friends an egift card in any amount, to any national or local merchant in the U.S., within seconds.
Send a GiftYa