Tips and tricks
Know the Code. Every so often, H&M discount codes are available on their homepage. Popular offers include free shipping and 20% off your order.
Sign-up and Save. Subscribe to the newsletter to get the latest and greatest fashion news, style tips, and special offers. You'll receive 25% off your first purchase after signing up!
Shop Sale. Before you pay full price, browse what's on sale. Save up to 50% off items from the previous season or overstocked items.
View in the App. Download the H&M app available for iOS and Android to gain access to exclusive offers, stay up-to-date on the latest styles, and enjoy smart features like Scan & Buy.
Put that Student ID to Work. Students, save 15% off your purchase when you verify your academic status with UNiDays. Feel confident heading into that new internship when you're dressed to impress!
What is H&M?
H&M is one of the eight brands that make up the H&M group. You can find everything from shirts, pants, and dresses to shoes, bags, and homegoods when you visit an H&M store. With departments for men, women, and kids, H&M has something for everyone.
But What Does H&M Stand For?
A Swedish-based company, H&M stands for Hennes & Mauritz. The initials pay homage to the store's two founders, Erling Persson, who initially owned a clothing store called Hennes (Swedish for "Hers"), and Mauritz Widforss.
Being Eco-Friendly Has Never Looked Better
You probably know H&M for its affordable fashion, but something you might not know is how dedicated the company is to becoming more sustainable. In efforts to increase its sustainability, H&M has started collecting and recycling used clothing from any brand in any condition.
H&M is also working to find alternatives to harmful chemicals that have become part of textile production. Additionally, H&M has teamed up with environmentally-minded organizations like the World Wildlife Foundation, the Solidaridad Network, and the Swedish Textile Water initiative to combat water waste and champion climate action.
Find an H&M Store Near You
H&M has thousands of stores all over the globe! You can find an H&M store near you here. Not one close by? No problem—you can get the same great deals online by visiting the H&M website. Get free shipping when you spend over $40!
Frequently asked questions about H&M gift cards
How do I use an H&M gift card online?
To use your gift card online, click "Add Gift Card" when you get to the payment portion of the checkout process, then enter your gift card number and pin. You can use a gift card in combination with any other online payment method (credit, debit, and PayPal).
Can H&M gift cards be used internationally?
An H&M gift card can only be used in the country that it was purchased in. Additionally, you can only add more funds to a card in the country that it was purchased in. Visit the H&M website for more terms and conditions relating to gift cards, or call customer service at 1-855-466-7467 for more information.
Where can I buy an H&M gift card?
You can buy an H&M gift card online on the H&M website or in any H&M store. But if you want the best deal, you can get it right here at Gift Card Granny.
Are H&M gift cards reloadable?
Yes, you can reload your H&M gift card in-store at any H&M.
What types of gift cards are available from H and M?
H&M carries both physical gift cards and e-gift cards.
How much is an H&M gift card?
H&M gift cards are available in denominations ranging from $15 to $300 in one-dollar increments. (Note: E-gift cards range from $15 to $150.)
Do H and M gift cards expire?
No, H&M gift cards do not expire! However, if the balance on your card reaches zero, you only have three months to add more funds before the card is deactivated and rendered invalid permanently.
How do I check the balance on my H&M gift card?
Don't know how much is left on your H&M gift card? check your gift card balance here.
About H&M
H&M is a collection of different brands that sells fashion apparel and accessories, shoes, beauty products, and homeware. With origins as a women's clothing store in 1947 Västerås, Sweden, H&M has now grown into a modern, collaborative company with more than 4 thousand stores worldwide.
Comments about H&M
You may also like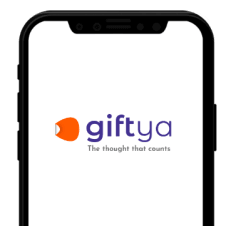 Looking for a new way to gift?
Text friends an egift card in any amount, to any national or local merchant in the U.S., within seconds.
Send a GiftYa