Get Cash Back
Earn cash back rewards when you buy a gift card and redeem for eGifts or cash payouts.
Purchase select gift cards
View all Cash Back Gift Cards
FAQs about Cash Back Rewards
What are Cash Back Rewards?
Granny Cash Back Rewards allows you to purchase discounted gift cards from select retailers and earn cash back that can be redeemed for a cash payout or free gift cards.
How can I earn Cash Back Rewards?
Earn cash back on select Granny Direct gift cards, all purchases from Premium Partners, and for many other activities such as downloading our app or subscribing to our newsletter.
How do I redeem my Cash Back Rewards?
Once you have earned at least $5 cash back, you can get a cash payout or redeem it for free gift cards from hundreds of top brands.
Saks Fifth Avenue Tips and Tricks
What can I purchase with my Saks Fifth Avenue gift card?
In accordance with its founders vision, Saks Fifth Ave carries all of the fashion industry's leading names, including Gucci, Prada, Moncler, Tom Ford, and many, many more. In addition to apparel for women, men, and kids, Saks also has a wide selection of other designer products from shoes and accessories to beauty supplies and home goods. You can use your gift card on any item in the store or online. Your Saks Fifth Avenue gift card is also accepted at OFF 5th as well!
Where can I purchase a Saks Fifth Avenue gift card?
Saks Fifth Avenue makes it easy to purchase gift cards for all those fashion-forward people in your life. Simply visit any Saks Fifth Avenue location and purchase a gift card at any register. You can choose the amount you'd like to purchase and then you're all set with your gift card! You can also pick up a Saks Fifth Avenue electronic gift card by visiting the Saks Fifth Avenue website and have it sent immediately to the recipient. Or, consider purchasing your Saks Fifth Avenue gift card from Gift Card Granny, and get a discount!
How Can I Redeem My Saks Fifth Avenue Gift Card?
It's easy to redeem your Saks Fifth Avenue gift card! Stop into any store location and use your gift card to pay for your purchase. You can also go online to Saks Fifth Avenue and make a purchase using your gift card as well. Simply enter the gift card number at the purchase screen and you're all set! Make sure to take a look at the "Trending" section on the Saks Fifth Ave website. You'll find new arrivals, this season's trends, buyers' picks, editorials, and a list of up-and-coming designers to check out.
Can I return an item I bought with a Saks Fifth Avenue gift card?
You can return your items up to 30 days with a receipt for a full refund, even if you made your purchase with a gift card. If you don't have the receipt and no record of the transaction can be found, you can still receive store credit for the lowest selling price of the item.
Do Saks Fifth Avenue gift cards expire?
No, Saks Fifth Avenue gift cards will never expire. That means you'll have all the time you need to find the perfect outfit, home good, or makeup items!
Frequently Asked Questions About Saks Fifth Avenue Gift Cards
How many promotional codes can be applied to a single purchase?
Saks Fifth Ave frequently runs promotional codes like gift with purchase, free shipping, free returns, percentage off, and dollar-amounts off. You can use a total of five promotional codes during a single checkout—though only one of those five can be a monetary code. Select merchandise may be excluded from certain promotional codes.
Once I make an online order, can I change the size, color, or quantity?
Once you submit an order, Saks Fifth Ave will be unable to change any details of your purchase. However, you can cancel the order and reorder using the correct information.
If I order multiple items online, will they all arrive in the same shipment?
Depending on where the order is being shipped from, your items may come in separate shipments. However, you will not be charged additional shipping fees, only the initial charge for shipping at checkout.
Can I use my Saks Fifth Ave gift card at OFF 5th?
Yes! You can use your Saks Fifth Ave gift card online and in-store at any Saks Fifth Ave or OFF 5th location.
How long does it take to receive a refund on a return?
It may take as long as three weeks for your return to be processed and your refund issued. During the holiday season, it may take longer.
How can I check my Saks Fifth Ave gift card balance?
We know that it's hard to keep track of how much money is on a gift card, so we make it easy for you. Check the balance of your Saks Fifth Ave gift card here.
About Saks Fifth Avenue
With its first store opening in 1924, Saks Fifth Ave is a living legend in fashion history. The result of a collaboration between two merchant families, the Saks and the Gimbels, Saks Five Ave has since expanded well beyond New York City and across the country.
Over the years, Saks Fifth Ave has become a staple of American fashion. Today, it has 39 stores nationwide. Find a store near you using the Saks Fifth Ave store locator. If you're shopping online, make sure to check if the item you want is in-stock at a nearby store—you might be able to pick it up within a couple of hours!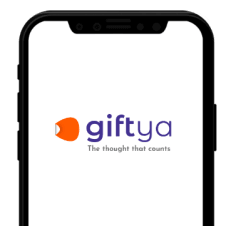 Looking for a new way to gift?
Text friends an egift card in any amount, to any national or local merchant in the U.S., within seconds.
Send a GiftYa