Lyft Tips and Tricks
Needing a ride is something we've all experienced. Many are living a comfortable life without a car, but find themselves occasionally needing a lift when public transportation isn't going to work. Sometimes you have a large party that can't all fit into your friend's minivan. Or maybe no one is available to pick you up from the station. Lyft gets you a ride quick and without excessive wait. Pair with a driver through the smartphone app, and get going to your selected destination. Automatic pay occurs through the app, making the whole process hassle-free.
Set Up a Lyft Account
Setting up your Lyft account is simple. Download the Lyft app on your smartphone and enter the information required, including your phone number and payment method. From there you can tell the app where you are where you need to go, and a nearby driver will pick you up and take care of the rest.
Frequently asked questions about Lyft gift cards
Where can I buy a Lyft gift card?
You can purchase a Lyft gift card on the company's website at lyft.com/gift. Or you can purchase it on the app. When on the app, find the promo section and select "Gift Lyft to Friends." Once purchased, the Lyft gift card cannot be refunded or voided.
You can also save money by buying the Lyft gift card at Gift Card Granny.
Does the Lyft gift card cover all expenses?
Once you've uploaded the value of your gift card to the app, the gift card will apply to your next ride. However your gift card may not cover certain fees such as cancellation and damage fees, and tipping the driver. The payment method you created your account with will cover these extra fees if they apply to you.
How does the Lyft gift card work?
Everything is through the app, which means your wallet is less cluttered with plastic. You have to set up a payment method through the app, even if you're only planning on spending within the limits of your gift card. Once you have the gift card, you can redeem on any Lyft ride you take in the US.
Gift cards can be physical or electronic, it's all going to apply to the same place -- the app. For your electronic gift card, once you complete purchase an email will be sent to a recipient of your choosing. The email will include a link that will automatically apply the gift card to the account, so it can be accessed when needed on the app. Alternatively you can also manually apply the provided 16-digit code on the app. When using a physical gift card, you'll find the 16-digit code on the back of the card. Open the Lyft app and enter the code under the promos tab.
How can I check the balance on my Lyft gift card?
Need to take a Lyft and want to know if your gift card can cover it? Checking your balance is quick and simple, just visit our Lyft balance check page. You can make a call or open the app to check how much you have left. On the app, your gift card balance will be in bold in the promos section.
What can I do if my gift card is stolen or lost?
Unfortunately lost and stolen gift cards can't be replaced. However if the funds from a misplaced card are never redeemed, the value can be added to your account.
Does the Lyft gift card expire?
Lyft gift cards do not expire, so there's no chance of you losing any money. Hold off on using the gift card as long as you like, the gift card will maintain its value. It's ready when you are.
Can I use multiple gift cards at once?
Lyft only allows the use of one promo code at a time. Credits do not expire, but they also cannot be stacked or combined when they come from different Lyft Cards.
About Lyft
Lyft is known across the country as the service that gets you to where you need to be safe, comfortable, and fast. Lyft drivers are operating throughout the US, and even in parts of Canada. Based in San Francisco, California, Lyft has been providing service since 2012. They'll get you in contact with drivers quick and effortlessly through their interactive app. Lyft also offers scooters and a bicycle-sharing system.
Comments about Lyft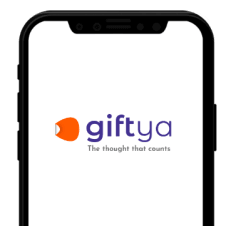 Looking for a new way to gift?
Text friends an egift card in any amount, to any national or local merchant in the U.S., within seconds.
Send a GiftYa