Earn 1% cash back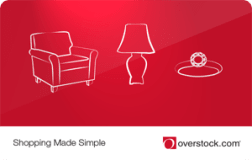 Earn 1% cash back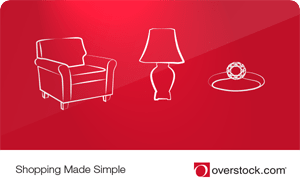 Buy Overstock Gift Cards
Earn cash back when you buy a Overstock gift card from Gift Card Granny.
Type:
eGift
Digital delivery. Online use only.
Select an amount:
Add a gift delivery design option:
Send to:
Get Cash Back
Earn cash back rewards when you buy a gift card and redeem for eGifts or cash payouts.
Purchase select gift cards
View all Cash Back Gift Cards
FAQs About Cash Back Rewards
What are cash back rewards?
Granny Cash Back Rewards allows you to purchase discounted gift cards from select retailers and earn cash back that can be redeemed for a cash payout or free gift cards.
How can I earn Cash Back Rewards?
Earn cash back on select Granny Direct gift cards, all purchases from Premium Partners, and for many other activities such as downloading our app or subscribing to our newsletter.
How do I redeem my Cash Back Rewards?
Once you have earned at least $5 cash back, you can get a cash payout or redeem it for free gift cards from hundreds of top brands.
Overstock gift cards Q & A
Where are Overstock gift cards sold?
Overstock gift cards are sold at participating retailers, including Gift Card Granny! Gift Card Granny offers both traditional and egift cards.
Do Overstock gift cards expire?
Nope. As long as you live in a state where unused gift card funds are not considered unclaimed property, you're fine. Otherwise, the state may claim the funds-- check your state's government website for details. We urge you to use your Overstock gift card promptly. This way, your gift card funds remain yours.
How do I check the balance of my Overstock gift card?
Find out your gift card balance.
What do I do if my Overstock gift card doesn't work?
For customer service issues, such as a non-function gift card, call: 1-800-843-2446.
How much can I get a gift card for?
Choose from values between $10-$1000. Overstock offers both traditional and egift cards. eGift cards are available after 1-24 hours and are non-refundable. Overstock.com gift cards cannot be used to buy other gift cards.
How do I resolve issues with my gift card?
Overstock is happy to assist with customer service issues, including gift cards. Please call Toll Free: 1-800-843-2446. You can also try the Customer Care Center.
How can I redeem an Overstock gift card?
To redeem your Overstock.com gift card, choose "I want to use a gift card" as a form of payment at checkout. Have your gift card ready. In all cases, if the total cost of the purchase is more than the amount of the gift card, you will be expected to cover the difference with another form of payment.
Are there restrictions for using Overstock gift cards?
Overstock gift cards cannot be used to purchase other gift cards or cell phone plans. Gift cards for Overstock.com cannot be used internationally. After you have loaded your gift card balance onto your account, the money is no longer transferable.
How long is my Overstock gift card good for?
Your Overstock gift card is good forever, unless you live in a state with unclaimed property laws that specifically refer to unused gift card balances. Refer to those laws for more information.
If I lose my gift card, can I get it replaced?
You are responsible for your gift card. Lost or stolen cards will not be replaced. Please care for your card as if it were cash. If your Overstock gift card is non-functional, Overstock.com may be able to replace it. No other action or liability is applicable.
Overstock Terms & Conditions
Card balance can only be used to buy goods or services at Overstock.com under the "Shopping Tab" at Overstock.com. Card balance cannot be used to purchase other gift cards or any other goods or services so designated in the terms and conditions for purchases from Overstock.com. Not redeemable for cash except as required by law. Not a credit or debit card. Not reloadable. Safeguard the card – it will not be replaced or replenished if lost, stolen or used without authorization. CardFact V, Inc. is the card issuer and sole obligor to the card owner. CardFact V, Inc. may delegate its issuer obligations to an assignee, without recourse. If delegated, the assignee, and not CardFact V, Inc., will be the sole obligor to card owner. For complete terms, balance and other inquires, visit Overstock.com/gift-card/terms or call 1-800-843-2446. Purchase, use or acceptance of card constitutes acceptance of these terms.
About Overstock
Overstock began in 1999 in Salt Lake City, Utah near the Wasatch Mountains. They've grown into a billion-dollar online retailer aimed at helping everyone afford to create their dream home. Their passion is making life better for everyone. Their emphasis is on affordability and quality through connecting people to the services and products they need and want in ways both traditional and unexpected.
Their three values are: connections, entrepreneurship, and social responsibility. Overstock values its community and charity connections, as well as priding itself on exceptional customer service. Supported charities include: pet shelters, Special Operations Warrior Foundation, and the Best Friends Animal Society. In addition, they encourage and embrace small businesses as part of their site. A fur- and ivory-free retailer, Overstock also offers carbon-neutral shipping.
Overstock also posts their entire Executive Team and Board of Directors online, which further emphasizes their commitment to honesty and integrity. Ranked high in both customer and employee satisfaction, Overstock.com began as an idea and bloomed into a smashing success. Let them help you make your dream home come true.
Looking for a new way to gift?
Text friends an egift card in any amount, to any national or local merchant in the U.S., within seconds.
Send a GiftYa