Panera Bread Tips and Tricks
Where Are Panera Gift Cards Sold?
Panera gift cards are available for purchase both online and in the store. Online you have the choice to either purchase a physical gift card or an electronic gift card. To purchase a physical gift card, simply visit their website and enter the address information for the recipient. Your gift card should arrive in the mail in the next couple of days. You can also stop into any Panera location and purchase a physical gift card from the register.
Or you can also purchase an electronic gift card from the Panera website. Simply enter the recipient's email address and consider it sent! They will receive the electronic gift card immediately in their inbox. You can also purchase Panera gift cards from Gift Card Granny, and never pay full price!
Can You Combine Panera Gift Cards?
If you're lucky enough to have a couple of Panera gift cards, then yes, feel free to combine them on your purchases! The next time you're in a Panera for coffee, bagels for the office, soup, or a delicious salad, feel free to use the balance on your multiple gift cards until you purchase is paid for. You might even want to pick up some for friends, family, or co-workers while you're at it!
How Can I Redeem My Outback Gift Card?
Panera makes it easy to redeem your gift cards. Simply present your physical gift card at the register the next time your stop in for your mid-morning coffee break, or when you just need one of their delicious grilled sandwiches. If you happen to have an electronic gift card, that's not a problem either. When you are at check out, present your email containing your gift card's QR code and that's it!
Can You Use Panera Gift Cards Online?
Yes, your Panera gift card is functional for online ordering in addition to in store purchases. Simply go to the Panera website's online ordering page and choose which option works best for you. If you want to order ahead of time and pick it up at a time of your choosing, simply pick out what you want, choose a time, and pay with your gift card. You can also order online for delivery as well. Simply choose that option, enter your items, and pay with your physical or electronic Panera gift card. If you're within a certain radius of the Panera store, they'll send one of their drivers as soon as your order is ready.
Are Panera Gift Cards Reloadable?
They most certainly are! Your physical Panera gift card is ready to be reloaded as soon as you're able to add more funds. You don't have to wait for your balance to get to $0 either. A good way to ensure your never miss that much needed coffee and a muffin in the morning is to keep some funds on it at all times. You definitely won't regret it!
Frequently Asked Questions About Panera Bread Gift Cards
What types of gift cards are available?
The Paner offers both physical and electronic gift cards. It's super easy to purchase both online. Or the next time you visit Panera, you can stop by the register to purchase a gift card there as well.
What dollar amounts are available for Panera gift cards?
You can get a Panera gift card in any amount that works with your budget! Just choose an amount, anywhere between $5-$500 and purchase either online or in store. No matter what amount you choose, your recipient is definitely going to be pleased!
How can I check my gift card's balance?
Sometimes it's hard to remember what you have left on your card, that's why we've made it easy to check what's still on your card. You can check out the balance remaining on your Panera gift card anytime.
Does my Panera gift card expire?
Nope, your Panera gift card will never expire! That means you can choose the time and location, whenever you decide to use it. We're pretty sure it will be sooner rather than later though. Don't forget that Panera gift cards are also reloadable!
Are there any fees?
There are never any fees associated with your Panera gift card. Because it doesn't expire either, you'll have plenty of time to use it at your leisure.
Using your eGift Card is Simple!
Redeem Online or In the Panera App*
1. Order for Panera® Curbside, Rapid Pick-Up® or Contactless Delivery at PaneraBread.com or in the app.
2. Enter and apply Gift Card and 4-digit PIN number during checkout. Be sure to save your PIN for future in-cafe use.
*Minimum order of $5 required for delivery, exclusive of taxes and delivery charges that may apply. Delivery charges may vary. Our delivery charge is not a tip or gratuity provided to the driver. Participating bakery-cafes only. Tracking available only in participating bakery-cafes that offer delivery. Gift card purchases and catering orders excluded. Order must be placed online with credit card. Other restrictions may apply. Delivery hours may vary. Limited delivery area. Visit panerabread.com/deliveryinfo to determine if you're in a delivery area or for more information. Drive thru availability varies by location.
Redeem in Cafe or in the Drive-Thru
1. Print this page, or save to show on your mobile device.
2. Bring it to any participating U.S. Panera Bread® bakery-cafe location and present at checkout.
Merchant Instructions:
1. At Pay Screen, press Gift Card button.
2. When prompted to swipe Gift Card, click on Manual button.
3. Enter gift card digits.
4. Click Enter.
5. Enter PIN digits.
6. Click Enter.
7. Follow normal procedure to close out the check.
About Panera Bread
Panera believes that food you can feel good about, served in a warm and welcoming environment by people who care, can bring out the best in all of us. That means crafting a menu of soups, salads and sandwiches that Panera is proud to feed its own families. Like poultry and pork raised without antibiotics on our salads and sandwiches. A commitment to transparency and options that empower Panera's guests to eat the way they want. Seasonal flavors and whole grains. And a commitment to removing artificial additives (artificial flavors, sweeteners, preservatives and colors from artificial sources) from the food in its bakery-cafes. Why? Because Panera thinks that simpler is better and believes in serving food as it should be. Because when you don't have to compromise to eat well, all that is left is the joy of eating.
For more information, visit panerabread.com or find us on Twitter (@panerabread), Facebook (facebook.com/panerabread) or Instagram (@panerabread).
Comments about Panera Bread
You may also like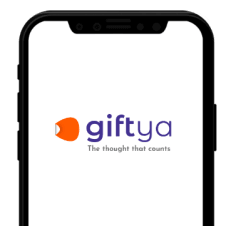 Looking for a new way to gift?
Text friends an egift card in any amount, to any national or local merchant in the U.S., within seconds.
Send a GiftYa