Domino's Pizza Tips and Tricks
Join the rewards program. Earn points toward future orders with Domino's Piece of the Pie Rewards. Orders of $10 or more will earn ten points, and you can redeem your points for free pizza once you reach 60.
Sign up for email and text offers. Get coupons, online-only deals, and local money-saving offers when you sign up to receive emails and/or text messages from Domino's.
Create a Pizza Profile. Make an online account with Domino's to save time when ordering and keep track of your purchasing history.
With a history that dates back to 1960, Domino's is a bonafide expert when it comes to hot-and-ready pizza. An innovator in its field, Domino's is constantly working to make its customers' experience as quick and easy as possible.
Pioneering Pizza—and Beyond
Popularity is one reason Domino's has maintained a reputation for being an industry leader but another is it's contributions to the evolution of marketing and food-relevant technology. Perhaps its most recognizable inventions is the 3D car-top sign, now used by everyone from taxi drivers to drivers' ed instructors.
Anytime, AnyWare
Order using your favorite devices and apps with Domino's AnyWare. Google Home, Alexa, smart TVs and watches, Twitter, Facebook, and Slack are just a few of the ways you can get your favorite pizza. Or, download the Domino's Zero Clicks app for hassle-free ordering—zero clicks needed!
Protect Your Pizza Against the Unexpected
You've heard of car insurance and health insurance—now get ready for pizza insurance. That's right, with Domino's Carryout Insurance, you're offered full coverage on your carryout order, free of charge! If anything happens to your food within two hours of purchase, you can bring it back, and Domino's will remake it for free.
Make Your Wildest Pizza Dreams Come True
Domino's Pizza Builder allows you to custom-make your pizza online. Pick your favorite toppings, and watch as your creation comes to life on your computer screen.
Not sure what to choose? According to a recent survey conducted by Domino's, the most popular pizza toppings are pepperoni, mushrooms, onions, sausage, bacon, extra cheese, black olives, green peppers, pineapple, and spinach.
Frequently Asked Questions About Domino's Pizza Gift Cards
Where can I buy a Domino's gift card?
You can purchase a gift card in any Domino's store, online on the Domino's website, or right here at Gift Card Granny. Gift cards are available in physical and digital formats.
Does the delivery charge on my order include tip?
Delivery charges do not cover tips, so make sure you thank your driver for their service with an appropriate tip!
How much money can I put on a Domino's gift card?
You can put any amount from $5 to $100 (in $1 increments) on your Domino's gift card. Different designs are available with purchase.
Is there a way to track my order?
Use the tracker on the Domino's website to track your order every step of the way. Just search your order by entering your phone number!
Can I order anything other than pizza with my Domino's gift card?
Domino's might be best known for their pizza, but their menu doesn't stop there! You can also get pasta, sandwiches, chicken wings, cheesy bread, salads, desserts, dipping sauces, and more.
How can I check the balance of my gift card?
Don't know how much is on your Domino's gift card? Check your balance here with Gift Card Granny. If you're running low, order another with us for a discounted price!
About Domino's Pizza
What started as a single pizza restaurant in 1960 has now expanded to an international corporation with over 14,000 locations in more than 85 countries. At Domino's, pizza isn't just a passion—it's a science. Not only are they constantly updating their menu, but they're also developing new tools and technologies to make ordering as fast and convenient as possible.
Comments about Domino's Pizza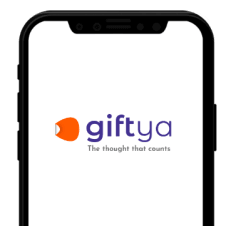 Looking for a new way to gift?
Text friends an egift card in any amount, to any national or local merchant in the U.S., within seconds.
Send a GiftYa