Holiday Gift Card Deals 2022
Gift Card Granny has compiled the top gifts and deals this holiday season to take your gift giving to the next level. Take advantage of both convenience and thoughtful personalized gift giving. Check out the deals below to find the perfect holiday gifts.
BLACK FRIDAY ONLY! Take
2% off

Build-a-Card purchases.

USE CODE: BLACKFRIDAY22. Take 2% off load value on Build-a-Card Visa and Mastercard Gift Card purchases on Friday 11/25/2022. Limit 1 per customer.

Shop now
BLACK FRIDAY ONLY!,
FREE Co-brand!
USE CODE: COBRAND1222 *Minimum purchase of 50 cards. Valid on purchases for corporate accounts made on 11/25-12/9. Limit 1 per customer.
Shop now
BROUGHT TO YOU BY: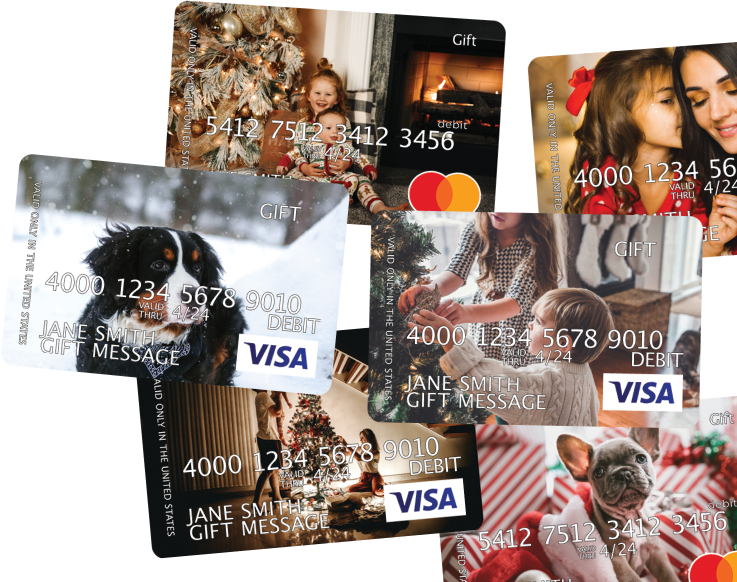 How Holiday Shopping With Gift Card Granny Works
At Gift Card Granny, we offer a wide variety of your favorite merchant gift cards from everyone's favorite App Stores & iTunes gift cards to Walmart and Best Buy. Whether you're gifting a friend or family member in person or shipping your thoughtful gift out of driving distance, Gift Card Granny has a multitude of gift options for you.
eGift:
Gift giving has never been more convenient with our eGift cards! Simply enter an amount, select the quantity of eGift Cards you would like to send, add a gift delivery design, and enter the recipient's shipping information. It's that easy!
Plastic:
Looking for a more traditional style of gift giving while keeping a sentimental touch? Send your loved one a plastic gift card with a personalized image and greeting card! We offer quality greeting cards with a variety of different designs to showcase multiple celebratory occasions such as Christmas, Hanukkah, graduation gifts and birthdays. Want to remind someone of a cherished moment? Add a photo of one of your favorite memories with the gift recipient and add a personalized meaning to your gift. You can give the gift of a lifetime to those you love the most.
Top 5 Holiday Shopping Tips
1. Have a Plan. Gone are the days when holiday shopping simply meant checking ads in the Sunday newspaper to see which retailers had the best deals. You can find holiday offers and promotions starting as early as July! Get an early start and create a simple plan. It can make all the difference in how much you save on holiday shopping. Include details like where and when you plan to shop, what you plan to buy and how you plan to save.
2. Do your homework. Make a list of the gifts your friends & family want and the gifts you want to give. Find your favorite retailers on social media account to find out about exclusive savings and start visiting sites ahead of time for sneak preview promotions. Lastly, use price and coupon tools. You don't have to go retailer-by-retailer to compare prices. Try Google Shopping, plus services such as NexTag, PriceGrabber, Honey and Shopzilla!
3. Pay for your holiday purchases with cash back gift cards. So, you found a gift they'll love at Walmart. Before you checkout, buy a Walmart gift card to use on your purchase and earn cash back in the process. You can buy gift cards for 100s of top brands through Gift Card Granny's website and in the Gift Card Granny app on iOS or Android. Shop smart and get a discount or cash back rewards on your gift card purchase.
4. Take advantage of store loyalty programs. If you love shopping at a particular store and they offer a loyalty program – sign up! Many retailers have customer reward programs that offer exclusive sales and savings events for its members. When you enroll, you'll be first to know about member only promotions which can help you save money on your holiday purchases.
5. Follow a trusted source on social media. Many deals will come and go quite frequently so you could very easily miss out on great discounts. Follow a trusted deals or shopping source on social media to avoid missing out. This will help you stay in the know on the best deals without having to keep up with them all yourself.